www.goclearimage.com
HOW TO PHOTOGRAPH FIREWORKS.
Fireworks are very emotional, very beautiful, and very hard for the average photographer to capture well.
Tip #1:
Plan your spot. Think ahead and reserve a space if necessary.
Tip #2:
Turn off your flash. Look for the lightning bolt symbol with a cross through it.
Tip #3:
Purchase a remote shutter release for your camera. If you don't have one, look up in your manual how to setup "self timer" on your camera. Otherwise, your hands will shake the camera as you are touching it, making for a blurry image.
Tip #4:
Use a tripod or setup on a firm surface, car top, or rock.
Tip #5:
If you are using a DSLR, set your camera to manual, and experiment with ISO 200, f8, and change your shutter until you get it right. The farther away you are from the show, the more you can open up your lens (like F4).
If you are using a point and shoot, and have no idea what I just said :-), look for a "nighttime" mode, or "long exposure" mode.
The shutter will need to be open longer than you would be used to for normal photography.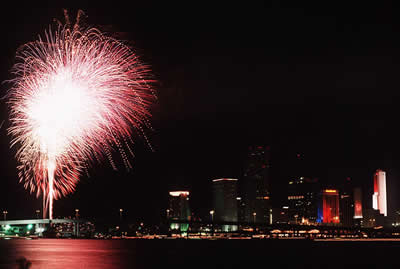 Tip #6:
You don't want to chase the fireworks with your camera (besides, it's on a tripod, right?), so find a point that you can focus your camera on, that will be the same distance (aprox) as the fireworks. For example, focus on a nearby building, or tree. If you hold your shutter button halfway down, you should be able to focus on your object, and then re-compose the image while holding it down until you are ready to take the picture. If you can set your camera to manual focus, that would be even easier.
Tip #7:
Don't forget rule of thirds! Watch the fireworks for a minute, see where they are exploding, and setup your composition appropriately. Than shoot away! Experiment with your exposure settings.
Bonus Tip:
Want to capture someone with that sparkler in their hands? Experiment with no flash, and also, try your "night time flash" settings. This leaves your shutter open for longer than normal, as well as giving a short flash to freeze the action.
Don't forget to look up from the camera, smile, and remember how fortunate we our to have our liberties and our families, and that they must be vigilantly protected. - Return to camera, and repeat! :-)
Last but not Least - post your photo on our facebook, and consider printing your firework photo on metal...amazing!
Feel free to
email me
with specific questions.

See more stuff like this on our facebook page. Call us at 360.474.7773 (Marysville) 360.681.7622 (Sequim) or visit us at www.goclearimage.com